Do you constantly feel the need to become a parent whose kids are happy, healthy, capable, and well-mannered? Are these concerns making you worried at times? The mystery of connecting well with your kids is about to unlock.
One of the most important and fulfilling aspects of parenthood is to build a great relationship with your child. Making an early and deep relationship with your kids can have a lasting impression on the love that you share with each other. It is the influence of this strong bonding that helps your kids to do well in the society and eventually become a successful person.
The way parents today are involved in their day to day professional lives (and the obligations arising out of them), is aggravating a feeling of disconnect with their children. In addition to that, the taking over of the world altogether by the emerging technology, has further doubled the effect of this disconnect. Therefore, to prevent this constant distraction and separation from your kids, you need to inculcate the virtues of effective parenting, which, by the way, are not that much daunting that you might be thinking.
The following seven tips will help you connect with your children in an amazing way.
Find ways to present them gifts.
It is a no brainer to understand that children adore gifts. Gifts pave a strong basis to make a good connection with your kids. There are times when you are out of town on so many occasions because of your professional commitments. All this while, your children are eagerly waiting for you with an expectation that you bring something for them. So, giving a small token of your travels in the form of gift bags and boxes connects your kids with you like never before. You don't need to do it extravagantly, the gift should, however, relate to their interests and hobbies. Doing this is enough to make sure to show that how much they mean to you.
Talk to them profusely and listen to them carefully.
Talking and listening to your kids is the most fundamental and germane way to connect with them. But there is a catch, it won't help you much if you talk and listen purposelessly. You need to engage them by telling about how your day was and asking about theirs as well. It is important for you to listen carefully and remember what they tell you so that you will better able to interact with them on a daily basis. Asking interesting question is a good idea because it will invoke a feeling of curiosity in them to know and find out what's happening around. Try to create an engaging story whenever you want to tell them something new, it will help both of you to connect more easily next time when you make a conversation.
Create a more meaningful bond.
Parenting may bring about a lot of responsibilities on our shoulders, but while dispensing them we should not ignore the likes and dislikes of our children. They constantly need our support, encouragement, and interaction to grow, develop, and succeed. It all depends on how we connect with them and how we treat their emotions. The above mentioned tips try to help all the parents towards that direction.
Prioritize your time with them.
Being a responsible parent there are so many things you need to do to run your household smoothly. Indulging in all these important activities can sometimes make it difficult for you to spend quality time with your kids. You can't expect a healthy relationship with your children if you give all of your time to work, and they spend most of their crucial time with their friends. In order to connect with them, you need to put extra efforts to spend a little bit more time with your children. Try to get up 15 to 20 minutes earlier in the morning and take a walk with them, and talk about health and fitness. In the evening, read an interesting bedtime storybook for them.
Invite them into your world.
Sometimes parents find no common ground between what their children want and what their own compulsions are. If you too find yourself in such a predicament, invite your children in your world and let them know about the things you enjoy. If you're willing to show them who you are, then perhaps they will.
Encourage them.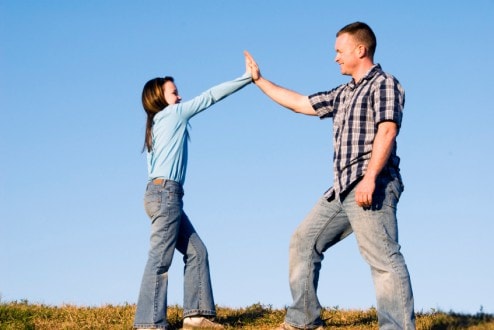 Every child is unique and gifted in his or her own ways. It is the parents who are the first ones to know and understand their children's talents and uniqueness. But equally it is their duty to sharpen their kids' skills. Children are not that matured to choose their own path, they need their parents' support more than anything else. So, it is important for you to encourage your children as much as you can in order to make them understand their strength. Your encouragement makes them feel they are capable of doing big things in life, and they also need to know that you are on their side. Encouraging them without criticism, therefore, is an amazing way to connect with your kids.
Connect with nature along with your kids.
Taking a break from daily routine to go outside for connecting with nature is a great way to get refreshed. This is a time when your stress level is at its minimal, which gives you a lot of time to strongly connect with your children. Being outside also gives you endless options to take part in various activities with your kids. You can play cards, play Frisbee together, go for a bike ride, go for swimming, go for trekking, do camping in a countryside, or play with the your pets.
Let them be the way they are.
It is pointless to think that your kids will live up to your expectations. Let them be who they are and allow them to make their small decisions. To burden your kids by your expectations will only disconnect them from you. Every child cannot excel in sports, shine at school, or for that matter will behave perfectly with everyone. The children have their own points of views that could be respected. If for a moment, you put aside all of your preconceived notions and expectations, it will be easier to understand their thought process. This will finally allow you to establish a better connection with your kids and it will also help to boost your kid's confidence.