There are lots of ways that we can express ourselves when we're in love, but words hold a special power to validate and solidify our love. Here are some great love quotes for your boyfriend to show how you feel about him.
1. "I like you very much, just as you are." Mark Darcy from Bridget Jones's Diary says this, and this is a classic. Modernising Jane Austen was always going to be a win, and this film proves that her books, much like you love, is eternal.
2. "I fell in love the way you fall asleep: slowly and then all at once." John Green wrote these words in The Fault in Our Stars, expressing how poignant and enduring love is. This is one of those love quotes that's special for him and her.
3. "Love is friendship that has caught on fire." Ann Landers talks about how true love is an extension of friendship, and she's totally right. If you were friends first, you know exactly what she means. This is one of those love quotes that you should share with him when you want to celebrate your strong foundation.
4. "You never lose by loving. You always lose by holding back." Barbara De Angelis has nailed it here, and this is a great quote to pass on to your loved one. It's all about vulnerability and self-expression, which is exactly what real love is.
5."Loving is not just looking at each other, it's looking in the same direction." Here, Antoine de Saint-Exupéry is waxing lyrical about how important it is for you to be aligned with your partner. Love is all about making things work and compromising so that you have a shared vision. Wonderful stuff.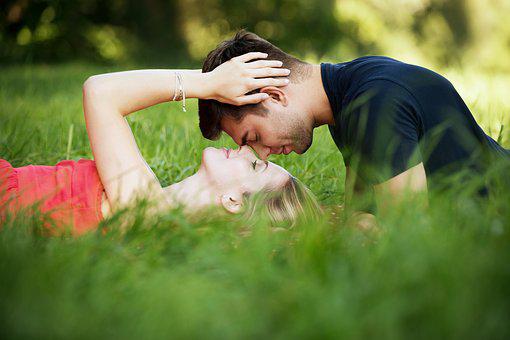 6. "All you need is love. But a little chocolate now and then doesn't hurt." Charles Schulz speaks the truth here. I love this quote: it's catchy and playful, just like a Hollywood romance. Your partner will love it.
7. "If you live to be a hundred, I want to live to be a hundred minus one day so I never have to live without you." When it comes to love quotes, sharing this one with him will ignite the nostalgia in him as well as the affection for sure. A. A. Milne was verging a little on the dramatic side here, but he has the right gist. Love might be all about sacrifice in the movies, but in reality, it can be selfish. True love might mean that you'd rather die first than deal with the reality of life without your partner.
8. "Don't forget I'm just a girl, standing in front of a boy, asking him to love her." Notting Hill was a film that had so many great, defining cinematic moments, least of all this quote. Everyone always remembers the simplicity of this message. If your love is honest and truthful, this quote will go down swimmingly with your partner.
9. "I love that you are my person and I am yours, that whatever door we come to, we will open it together." A. R. Asher is out here rewriting the rules of romance with this quote. I find it quite beautiful how, when you're armed with love, you can look in the face of difficulties and embrace tackling those problems together. It's an act of faith, so send this quote to tell your partner how he makes you feel.
10. "I saw that you were perfect, and so I loved you. Then I saw that you were not perfect and I loved you even more." Angelita Lim knows a thing or two about love. I love how powerful this sentiment is, about finding imperfections and loving someone in spite of, or even, because of them.
More love quotes for him
11. "I'm only me when I'm with you." Taylor Swift doesn't miss, we can all agree on that, yes? Your partner will know already how important Ms. Swift is to influencing pop-culture romance, but her words here ring so true. If you meet someone who makes you feel like yourself, shout it from the rooftops and tell them about her song!
12. "When you realize you want to spend the rest of your life with somebody, you want the rest of your life to start as soon as possible." When Harry Met Sally is a fabulous film for many reasons, but the hero, Harry, speaks such wisdom here. Having waited years for the right place, right time, we can all understand that desire to cut right to the chase. If you were made to wait for your partner, send him this quote! This is one of the best love quotes for him because even dudes love this movie.
13. "You are my greatest adventure." As much as Taylor Swift doesn't miss, Disney Pixar rarely does either. As a result, this quote from Mr. Incredible from The Incredibles hits hard. Love should be an adventure from start to finish, and this is one of those quotes to send him when you want to remind him of this.
14. "You had me at 'hello.'" Is there a more oft-quoted phrase than this, from Dorothy Boyd in Jerry Maguire? What a neat, efficient way of saying that it was love at first sight. If you love this quote, send it to someone you love!
15. "A kiss is a lovely trick designed by nature to stop speech when words become superfluous." Ingrid Bergman is clever and snappy as ever here. She talks the truth about the physical and emotional connection of love.
16. "I swear I couldn't love you more than I do right now, and yet I know I will tomorrow." Leo Christopher has a wonderful grasp of the value of love as it changes and gains intensity each day. Send this to the person you love more as every day passes.
17. "I'm scared of walking out of this room and never feeling the rest of my whole life the way I feel when I'm with you." If you're of a certain age, you will know who Baby from Dirty Dancing is. You will also know the wisdom beyond her years that she demonstrates. She talks about how love can be a risk, but sometimes you have to jump.
18. "When you meet the love of your life, time stops." Daniel Wallace is right. You can suddenly see the world of possibility open up before you. It's so exciting – and gives you hope.
19. "Love is passion, obsession, someone you can't live without." William Parrish here talks about how love can feel like a compulsion. It can be such an urgent, overpowering sensation that's so different from being single.
20. "You are my heart, my life, my one and only thought." Arthur Conan Doyle closes out this list with a really gushy, classically romantic thought. He was writing just after the Romantic period, and it shows. Send this quote to the guy who makes you feel that way!
Originally Published: www.bolde.com