Vegan Breakfasts With Five Ingredients Or Less
You don't need a lot of fancy ingredients to start the day with a healthy vegan breakfast! Try these delicious vegan breakfasts with five ingredients or less.
These five-ingredient vegan breakfast ideas are all easy-to-make and super delicious. When tallying up ingredients, I don't count water, salt or pepper, because those are three things that I'm assuming you have handy in your kitchen, regardless of how stocked your pantry is.
There are sweet and even a couple of savory vegan breakfasts included below, so you can choose the recipes that speak to you!
1. Avocado Toast
There are so many ways to build your ideal avocado toast. A basic recipe is just avocado, sliced onto toast, maybe topped with some sea salt and black pepper, but you can mix things up for fancier options! I like my avocado toast with a drizzle of sriracha sauce and a sprinkling of sesame seeds.
2. Buckwheat Pancakes
If you choose water as the liquid ingredient, these hearty, gluten-free pancakes clock in at exactly five ingredients. They're delicious topped with your favorite fruit, nuts and a drizzle of maple syrup.
Ingredients
Wet:
1/4 cup unsweetened applesauce
1 3/4 cup water or plant milk of your choice (I usually use unsweetened almond milk)
2 tsp. vanilla
1 Tbsp. apple cider vinegar or lemon juice [Do not pre-mix this into your wet ingredients if you are using a plant milk or the milk may curdle.]
Dry:
1 1/2 tsp. baking powder
1/2 tsp. salt
1 1/2 cups buckwheat flour*
Optional: A small amount of coconut or other cooking oil for the pan/griddle you are using.
* I have tried this recipe with both dark (heavy) buckwheat flour and off-white (light) buckwheat flour and both worked wonderfully.
Instructions
Mix the applesauce, milk and vanilla together (I usually use a 2 cup glass measuring cup, measure out 1/4 cup applesauce and then fill the rest of the cup with almond milk) and then top it off with vanilla. In a separate bowl, sift together the baking powder, salt and buckwheat flour (you may need to add a Tbsp. or so of flour to the mixture to replace the buckwheat germ that you have sifted out [only applies to 'purple/dark' buckwheat flour. If your flour is off white you won't have to worry about buckwheat germ.])
Mix the wet ingredients into your dry ingredients, topping off with the Tbsp. of ACV or lemon juice and you're ready to go. This pancake batter may be much thicker then you are used to.
Turn your pan or griddle on to medium/medium high heat depending on your stove. Once you can feel heat radiating from the pan, put a small amount of cooking oil (coconut, sunflower etc.) on the surface of the pan and spoon a 1/4- 1/2 cup of batter into the pan. I often cook 2-3 pancakes at a time. You will know the pancake is ready to flip when the bubbles that form in the cooking batter pop and do not fill back in again. Once you flip your pancake, cook it until the second side is browned and the pancake is firm, but still fluffy to the touch. As the griddle or pan continue to heat you may have to turn it down or risk burning your second batch of pancakes.
This recipe is wonderful topped with peanut butter and syrup, fresh fruit or jam!
3. Oatmeal Raisin Cookie Granola
This is a delicious make-ahead vegan breakfast to have on hand. It keeps for up to a week in an airtight container, so make it on Sunday for sprinkling over vegan yogurt or dousing in vegan milk all week long. Or eat it straight from the jar! I won't judge.
---
You might also be interested on: 8 Alternatives To Avoid Rice
---
4. Sweet-and-Creamy Oatmeal
Who needs added sugar or heavy cream to make a bowl of rich, sweet oatmeal? Not you! The base for this recipe is just regular ol' rolled oats and mashed bananas, and you can add your toppings of choice to make your own concoction.
5. Coconut Chia Pudding
Chia pudding is a filling, versatile breakfast. This recipe gives you some options, so you can mix and match ingredients, depending on what you have on hand. Chocolate for breakfast? Don't mind if I do! Mix it up the night before, and breakfast will be ready when you wake up in the morning.
6. Chocolate Peanut Butter Protein Shake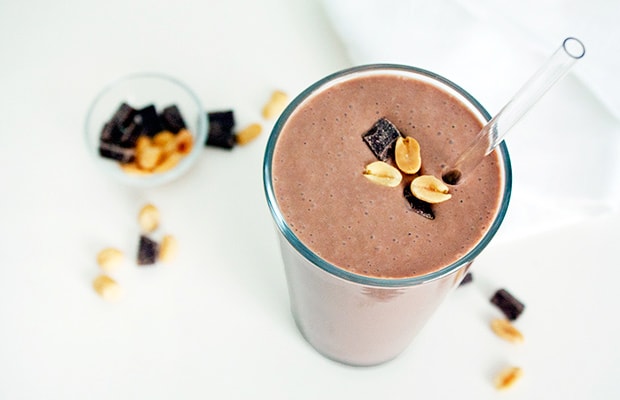 Can you believe that this decadent, vegan breakfast shake has only three ingredients? And none of them are protein powder. Instead, this chocolate-peanut butter-banana smoothie gets its protein punch from peanut flour.
7. Berry Coconut Breakfast Bowl
This is a healthy, filling and grain-free vegan breakfast recipe, and if you leave out the optional hemp hearts, it contains exactly five ingredients. You get healthy fats and proteins from walnuts and chia seeds and a touch of sweet and a bit antioxidant boost from the berries. Good morning to you!
8. Cinnamon Apple Steel Cut Oatmeal
This easy, Instant Pot recipe has exactly five ingredients, not counting water. Just mix and bring to pressure when you wake up. By the time you're showered and dressed, your piping hot steel cut oats will be ready to serve. Sweeten with maple syrup or a dollop of applesauce – your choice!
Ingredients
1/2 cup steel cut oats
1 1/2 cups water
2 medium apples, chopped into 1/2″ pieces
1/2 teaspoon cinnamon
1/4 teaspoon ginger (optional)
maple syrup or applesauce, to taste
Instructions
In your Instant Pot, stir together the oats, water, apple pieces, cinnamon, and ginger. Bring to high pressure, and cook for 5 minutes, with a natural release.
Sweeten with maple syrup or applesauce, to taste.
9. Quinoa Porridge
Who says that quinoa is just for supper? If you haven't had sweet quinoa, you are in for a breakfast treat! Just simmer with the vegan milk of your choice and add your favorite mix-ins. Easy peasy, and there's no need for more than four or five ingredients total.
Ingredients
1/2 cup dry quinoa
1 1/2 cups nondairy milk of your choice
sweetener of your choice, to taste
Mix-Ins: fruits, nuts, seeds, shredded coconut, or any other ingredients that you'd add to other sweet porridges, like oatmeal
Instructions
In a small saucepan, combine the quinoa and nondairy milk. Cook over medium heat, stirring frequently, for 25 minutes until the grains are tender and you have a nice, thick porridge. If you're low on liquid, add some extra milk or a bit of water to keep things from getting dry.
Sweeten to taste, and add any mix-ins you like. Serve hot.
10. The Elvis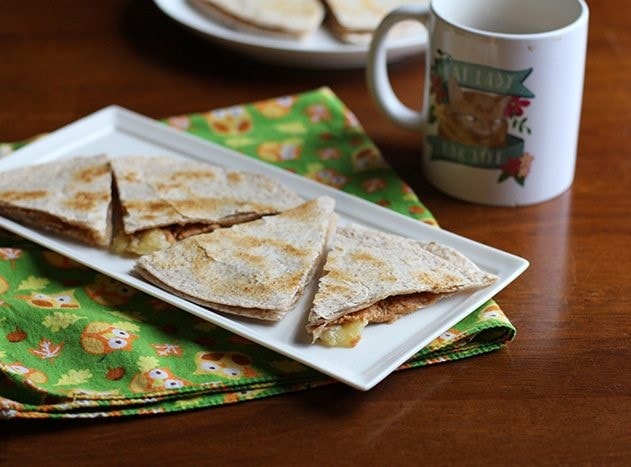 Sometimes, a little spin on a simple idea is the best breakfast. Instead of peanut butter and banana on toast, use whole wheat tortilla as the base for this quick, easy and filling vegan breakfast. You can even swap in different nut- or seed-butters, if that's your jam.
---
You must check also: 11 Tops Foods That Can Curb Your Sugar Cravings
---
11. Garlic-Herb Avocado Cream Cheese
Bust out those bagels, because this five-ingredient vegan cream cheese is going to blow you away. This spread will keep for a few days in the fridge, so make it on Sunday night, and you're set for breakfasts for half of the week. Serve your bagel up with a schmear or add sliced tomato, cucumber, onions and lettuce. Build your own bagel adventure!
12. Ginger-Peach Smoothie
A little bit sweet, a little bit spicy. This smoothie is a decadent way to start the day! Throw in a handful of leafy greens to get a veggie boost, too, if that's your thing. Either way, this is an easy breakfast to make when you're in a hurry. You can sip it in the car or on the train.
13. Strawberry Chia Pudding
If fruity is more your thing, this sweet chia pudding packed with strawberries is perfect for you. It's date-sweetened, contains no refined sugars, and only has four whole food ingredients. Chia pudding keeps for a few days in the fridge, so make a big batch so you can have it for a few breakfasts.
14. Coffee Milk
Maybe you're like me and aren't a big breakfast-eater. You can still start the day with a little bit of protein and fiber with this refreshing cold brew drink. Instead of vegan milk, you actually blend up your coffee with dates and hemp seeds for a sweet, creamy coffee drink that's a lot healthier than store-bought iced coffees.
Delicious and Healthy Breakfasts From Care2